Scientific Interests: Dynamical Systems, in particular conservative and symplectic systems, evolutionary game dynamics, random dynamical systems, billiards and linear cocycles.


Published and accepted papers:

A. T. Baraviera, P. Duarte, M. J. Torres, Stationary Measures on Infinite Graphs , To appear in Communications in Contemporary Mathematics (2021).

G. Del Magno, Gianluigi, J.L. Dias, P. Duarte, J.P. Gaivão, Hyperbolic Polygonal Billiards Close to 1-Dimensional Piecewise Expanding Maps. Journal of Statistical Physics 182 (2021), no. 1, 11 (doi: 10.1007/s10955-020-02673-2).

Hassan Najafi Alishah, Pedro Duarte, Telmo Peixe, Asymptotic Poincaré Maps along the edges of Polytopes. Nonlinearity (2020) Volume 33, Issue 1, pp.469-510 (doi: 10.1088/1361-6544/ab49e6).

P. Duarte, S. Klein, Large deviations for products of random two dimensional matrices Communications in Mathematical Physics (2020) volume 375, pages 2191–2257(2020) (doi:10.1007/s00220-019-03586-2)

P. Duarte, M. J. Torres, Isospectral Reduction in Infinite Graphs. Journal of Spectral Theory 10 (2020), no. 3, 955–989 (doi: 10.4171/JST/318)

Pedro Duarte, Manuel Santos, and Silvius Klein. A random cocycle with non Holder Lyapunov exponent. Discrete Contin. Dyn. Syst. 39, no. 8, 4841–4861 (2019) (doi: 10.3934/dcds.2019197)
Research monographs:
Pedro Duarte, Silvius Klein,
Lyapunov Exponents of Linear Cocycles: Continuity via Large Deviations.
Atlantis Series in Dynamical Systems, ISBN 978-94-6239-124-6.
(Draft versions of this book's chapters can be found on Arxiv.)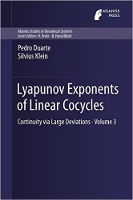 Pedro Duarte, Silvius Klein.
Continuity of the Lyapunov exponents of linear cocycles.
Publicações Matemáticas, 31
o
Colóoquio Brasileiro de Matemática. Associação Instituto de Matemática Pura e Aplicada- IMPA, 2017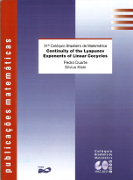 Book chapters and conference proceedings:
4. G. Del Magno, J. L. Dias, P. Duarte, J. P. Gaivão, The attractor of piecewise expanding maps of the interval , Stochastics and Dynamics (online) (2019) (doi: 10.1142/S0219493720500094)
Pedro Duarte, Silvius Klein, Large deviation type estimates for iterates of linear cocycles From "Probability in Dynamics", Stochastics and Dynamics, Volume No.16, Issue No. 03 (2016).

G. Del Magno, J. L. Dias, P. Duarte, J. P. Gaivão, D. Pinheiro, Polygonal billiards with strongly contractive reflection laws: a review of some hyperbolic properties,
Difference Equations, Discrete Dynamical Systems and Applications, Eds. L. Alseda i Soler et al., Springer Proceedings in Mathematics and Statistics 180, (2016), 179-190.
Pedro Duarte, Maria Joana Torres, Stability of non-deterministic systems. From "Particle systems to partial differential equations. II", pp 193–207, Springer Proc. Math. Stat., 129, (2015).
P. Duarte, Hamiltonian Systems on Polyhedra. Dynamics, games and science. II, pp 257–274, Springer Proc. Math., 2, (2011).

Unpublished papers: