Nicolas Van Goethem
UNIVERSIDADE DE LISBOA
FACULDADE DE CIÊNCIAS
DEPARTAMENTO DE MATEMÁTICA


Centro de Matemática e Aplicações Fundamentais
(CMAFcIO research center)

Campo Grande, Edifício C6, Piso 2, 1749-016 - Lisboa


Sala 6.2.20
Phone [+351] 217500486 (office) [+351] 930416751 (mobile)
Email vangoeth@fc.ul.pt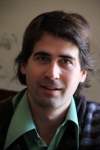 ---
Professor of mathematics at FCUL and researcher at CMFcIO
PROJECT & GROUP: MATH2DISLOC (FCT Grant, PI, 2014-2019)

Former members: Pedro Campos (9/2017-6/2019), Riccardo Scala (1/2017-6/2018), Marco Caroccia (9/2017-8/2018)

Associate professor qualification (Italy, 2013)
H-index = 10
Curriculum: May 2021

---

Research

Field: Mathematical modelling in material science: theory, numerics & applications.
Current project: Inelastic solids with defect singularities: mathematical analysis for models of fracture and dislocations.
Topics: Continuum mechanics & thermodynamics of defects in solids (damage, fracture & dislocations); Finite elasticity & linearized elasto-plasticity; Axiomatic approach to thermodynamics; Variational methods in material science: Gamma-convergence & shape and topological optimization methods (theory and numerics); Partial differential equations (elliptic & parabolic) and functional analysis; Geometric measure theory (theory of currents for dislocation modelling); Differential geometry (non-Riemannian geometry of crystals with defects).

Short description:

My research interests are connected to defect modelling in solid materials by mathematical analysis. This encompasses damage-based fracture in elastic and elasto/plastic materials, and dislocation and disclinations modelling in single crystals. The mathematical tools used and developed for this purposes are variational methods, differential geometry and topological sensitivity analysis. Continuum mechanics and thermodynamics are also required to comprehend the involved phenomena and further develop these models. Theoretical and numerical results are sought.

Data: Thomson Reuters Researcher ID - Scopus ID - Google Scholar Profile - Researchgate Profile

---

Selected Publications

Recent preprints go to CMAF preprint server - Download publications try Researchgate

---

Teaching (current)

Differential geometry (2021-)

Rational Mechanics (2015-2018)

Mathematical Methods in Physics (2020-2021)

Mathematical Methods in Physics (2016-2018)

---

Short bio

After undergraduate studies at the European school of Varese, Italy (1976-1992) and Brussels, Belgium (1992-1994), I graduated in Applied Mathematics at UCL, Louvain-la-Neuve, Belgium (currently Ecole Polytechnique de Louvain) in 1999. In 1999-2000, before starting a PhD thesis, I took the opportunity to work with G. Buttazzo in Pisa (Italy) on some Shape Optimization Problems. In 2000-2006 I was PhD student of F. Dupret and teaching assistant at Ecole Polytechnique de Louvain (Louvain-la-Neuve, Belgium). In Fall 2003 I was invited by D. Preiss to work during a trimester on some problems of Real Analysis at University College of London (Marie Curie ESR fellowship). In 2007-2008, I was Marie-Currie post-doc fellow (ER fellowship) at Ecole Polytechnique of Palaiseau, France, in the group and under the supervision of G. Allaire, where I worked on fracture evolution by shape optimization methods. In 2008, I won a faculty researcher position at CMAF, University of Lisbon, Portugal, under the programme Ciência 2007. This position was interrupted in 2012-2014 to take the opportunity of joining G. Dal Maso group at SISSA, Trieste, Italy, and participate to the research programme of his ERC grant "Quasistatic and Dynamic Evolution Problems in Plasticity and Fracture``. In 2013, I was selected for the FCT research fellow call and hence went back to Lisbon in July 2014. Besides this 5-year position, I also was awarded an "exploratory research project" grant with title "Mathematical theory of dislocations : geometry, analysis, and modelling". In 2013, I received the Italian Science Foundation qualification for Associate professor (''abilitazione alle funzioni di professore di seconda fascia in analisi matematica, probabilita e statistica matematica``). I am currently lecturing Differential geometry, Rational Mechanics and Mathematical Methods in Physics courses.